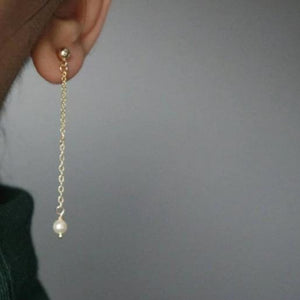 These Swarovski Pearl drop gold stud earrings are very classy and dainty, perfect for everyday wear and perfect bridesmaids gifts!

Approx 2" long

-Studs and chain 18k gold filled
-Come as pair
Gold filled jewellery
It's an actual layer of gold-pressure bonded to another metal. Gold filled is not to be confused with gold plating as filled literally has 100% more gold than gold plating. Gold filled is much more valuable and Nickel and lead free.